should be very interesting.
there are two times of the year that i love miami the most; art basel & wmc.
with art basel being just around the corner (the official dates are december 4th-7th), i figured id give a run down on a few of the events/galleries i will be attending. last year was great. i got to meet some of my favorite artists (including dave white) !! who knows what this year will be like, but the lineup of events already has me excited.
1. my good peeps from the O.H.W.O.W gallery will be hosting a number of events.
for more information, peep the
O.H.W.O.W website
, this is the same gallery that held the rostarr exhibit.
the schedule of events for ohwow is as follows:
TUESDAY, DECEMBER 2, 2008
OPENING NIGHT
LIVE MUSICAL PERFORMANCES
Featuring
A.R.E. Weapons
followed by
DJ JD SAMSON
(Men/Le Tigre)
8pm - Midnight
Cocktails provided by Campari and Grolsch
WEDNESDAY, DECEMBER 3, 2008
IT AIN'T FAIR BOOK FAIR OPENING
Featuring the release of O.H.W.O.W. and Deitch Projects collaborative book
Aurel Schmidt MANEATER
plus new releases by Tiny Vices, TV Books and Picturebox
6pm - 10pm
THURSDAY, DECEMBER 4, 2008
LIVE MUSICAL PERFORMANCES
Deitch Projects presents
THE GOSSIP AFTER DARK
A performance of karaoke, video and other weird things plus Special Guest DJ's
9pm - 2am
FRIDAY, DECEMBER 5, 2008
WAREHOUSE MOVIE SCREENINGS
Featuring the Miami premiere of
Ben Solomon, Dan Levin and Jenner Furst's CAPTURED
8pm
SATURDAY, DECEMBER 6, 2008
WAREHOUSE MOVIE SCREENINGS AND SPECIAL GUEST DJ'S
Featuring the Miami premiere of
Coan Nichols & Rick Charnoski's DEATH BOWL TO DOWNTOWN
8pm
2. david lachapelle
i cant wait for this one!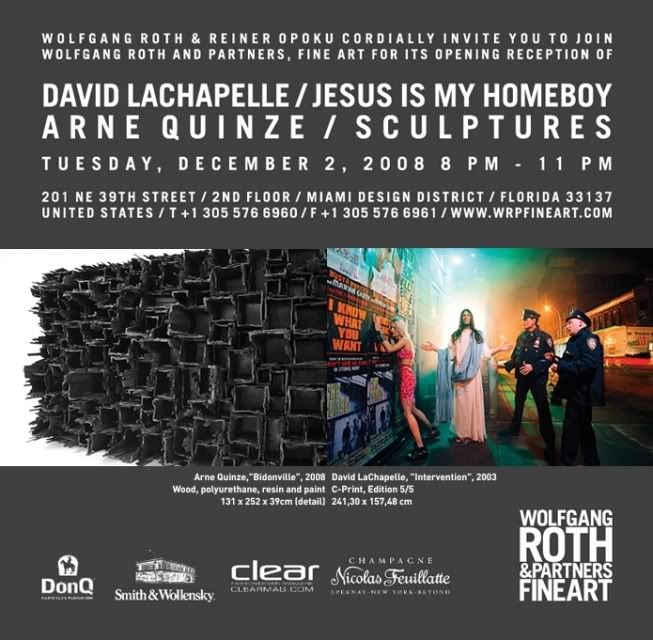 3.madlib... FOR FREE!!
seriously, this will be the best event of the week.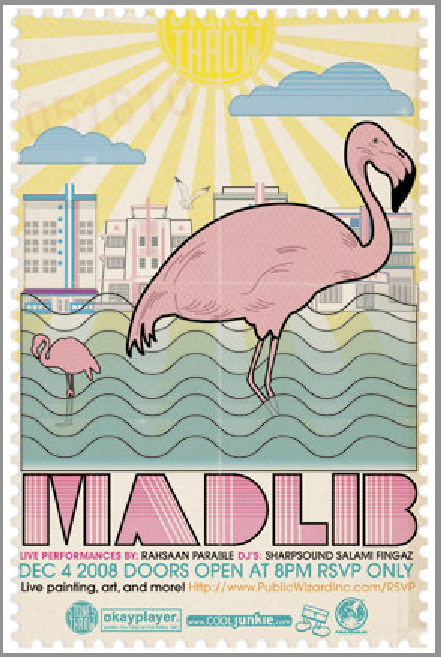 4. friends with you: fun house!
bounce house? IM THERE.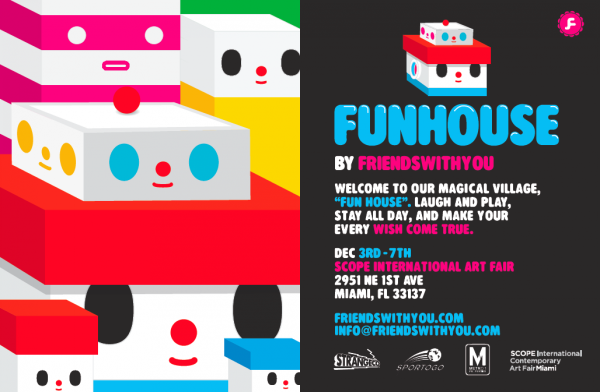 5. mstrkrft
eh. ive heard them play 5 times... and with how heathrow has been recently, im not too stoked on being there at all. however, all my friends are going- so ill definitely be stopping by for some drinks and hugs.
as of now those are the definite ones, there are plenty more that i have my eye on and i'd love to check out- but, its also finals week at my university (this always happens!), so i need to be home for at least 2 days this week, hahah. ill be stopping by plenty more of the galleries while im down there, so holler at me if youre going to be in the miami area for art basel!
peace & love.