say what you will. laugh at this community, talk down on what its turned into, i feel you. but no one can relate unless youve met your best friends through the internet because you share love for something, specifically sneakers (it just sounds so pathetic). but its true. my best friends are all somehow related to this environment in which i chose to surround myself with, around the age of what, 13? theres the myspace friends youve never met...then there are the communities, the forums. places where you exchange thoughts, feelings and so on with other members, yet we all hide behind user names. after being around certain communities for so long, you begin to obtain a reputation, credibility, you actually start to establish well thought relationships with the other members. you learn their names, you exchange myspace comments, and then you start talking on aim. we all know this story.
let me start with this (ill try to keep this short and sweet because this post may be a long read)..my best friend and i met through instyleshoes, a sneaker community with some really cool people. i got to know some of the people who ran the forums and at 16 was asked to do a spread for their magazine (i got to write an article too!), and was also asked to compete in their national sneaker competition, where i won for best vintage kicks in miami. these online homes have made me the person i am today, not just for giving me such awesome opportunities to express passion for something that brought me joy, but also because i made so many amazing friends, all of whom i still keep in touch with.
i know that the majority of the people who read this blog come from sneaker communities. Niketalk? Instyleshoes? Sneaker Play? Female Sneaker Fiend? If youre reading this, give a shout out, because this post is directed to all of you who ive met over the years. unfortunately, there have been a few tragic things that have happened in the community... and one of the most recent has been the death of sydni yoshie rounds. im writing this to speak about her, and how we are all in someway intertwined. i believe this because the love that so many people share for sydni is so grand, she touched us all in someway.
recently i got back in touch with my buddy from the west coast, jeri. jeri was the first girl i met on niketalk. we agreed on tunes and had late night aim chats, very similar to how my friendship with sydni began. we always talked about meeting, and i know that it will happen some time soon. in this day and age it not so bizarre that we can cross paths with people weve never met and enjoy someone's character so much, simply through the internet. thats one positive thing that i'll always stand by, i dont care if people crack on me because im an internet geek =D

here are some beautiful words from jeri that i wanted to share with anyone and everyone who knew sydni yoshie in some way. ( i think the way
jeri
writes is awesome, i had to hijack her entire blog entry and put it on mine)



Sometimes life is just one of those tests...
I caught up with a friend of mine via AIM. Our distance and friendship makes us no less friends than someone that has met another in person with a quick "hello". So I call her Jenifa, and shoes was our game... at one point (it's still in our hearts though!).
I believe we met via NT circa '02 (don't quote me on that). We met beneath a love story that was stirring up with drama. We pretty much tag teamed the whole issue and picked on a couple of people (we were kids then... haha).
So Jen and I played catch up today after she decided to finally sign on AIM and I've been talking to people via iChat. We've both been hella MIA and our hiatus-almost equivalent to ions. We talked about boys, life, exchanged words, laughs, and good conversation.
So that was that.
There were a couple of shoe message boards that I was always dedicated to. Through this experience of: hunting and gathering, pictures and posting, WDYWT? posts and Pick-up posts, there was a young gal: Sydni Yoshi was her name. Total sweeheart, very unique, and very friendly. I've only had a couple of conversations with her about shoes I was selling and our typical "props to the cute fit" replies. I remember her with the sick ass camera, and cool ass yellow car. However, I was on myspace today to check up on Jenifa and how she's been only to speculate that something had happened to Sydni… Unfortunately, my Internet stopped working so I ended up texting Jen asking what has happened. I seen some photos of Jen's inspirations through her Myspace profile: a photo of Sydni, and another of one of her friends of 13 years… Who had passed away prior to what I was about to hear. At that point, the page that was open was the only one I can scroll through: one friend's name was 'rip Syndi Yoshi rounds'… I started thinking to myself and had to ask Jen for more info. Jen told me that she died in a car accident 3 months ago.
It's a tragedy to hear anything of this nature.
Jen, we don't lose friends, we only gain angels. I can only imagine your loss, and her family's loss. Please send my regards to them. I never knew Sydni personally, but I've exchanged words with her, she's a definite cool ass chick. Beautiful in every right, and talented in many ways. As Jenifa says, "phenomenal in every way". She has so much of an impact to even people that don't personally know her. May God bless her and the lives that she has touched.
And because I'm so late, Sydni, you're in a better place now. =)
Although many have effortlessly looked up to you, many will put in the effort just to look a little higher ;)
"the good die young"... 18 years old.
"


i replied with this comment: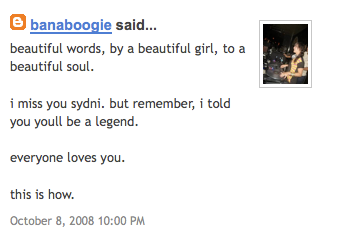 please keep spreading sydni's love the way we are doing. its important. i dont even know how she would react to all of this, but im sure shed just smile, maybe drop a tear.. and then give one of these faces: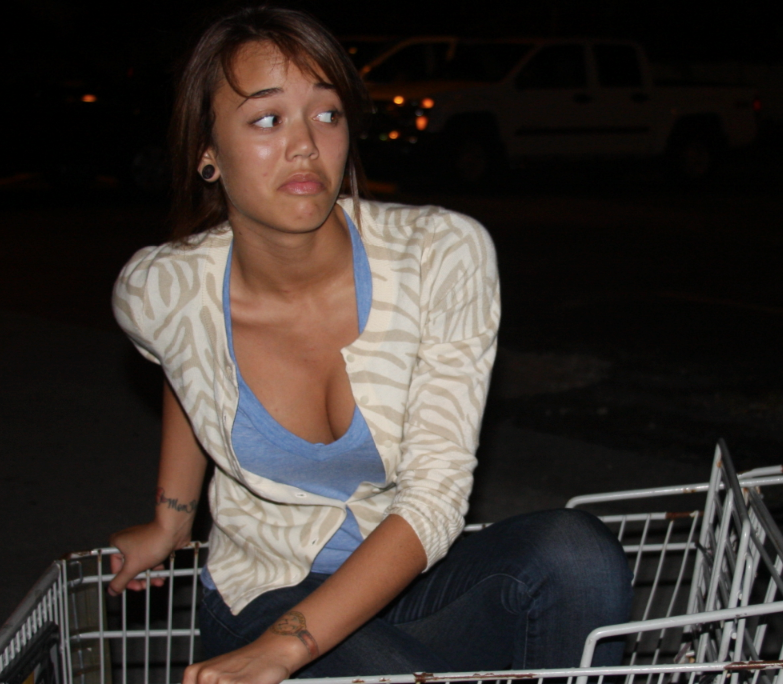 (that was a really good day =D )
with today being Yom Kippur (the day of atonement for those of Jewish faith), ive let myself think extra hard about a lot of things. and i feel really good. what makes me feel even better is that today i can think very deeply of sydni (and also my best bud emily), and use them of examples of how i want to better myself. its so good to know they touched so many, definitely good role models ;).


appreciate those you love, life is unexpected.



i rarely get personal on my blog anymore, but w.e, this is my journal.
with all that said, yet again..
peace & love.