So, i've been spinning for a few years. I used to mainly just be a bedroom DJ, along with the occasional school party. I was heavily into scratching and DJing as an element. Overtime, i've become more comfortable on the decks, and now i spin at clubs. In my city, there aren't too many decent club nights. Miami itself is amazing, but im about 30 mins from that area, so it's not always reasonable to be down there so often. So w/e, to be social i would occasionally go out to the local college parties, which i hated. Im spoiled when it comes to music... if the DJ isn't right, i'll leave- honestly. Anyway, about a year ago i went to a spot (which im not that crazy about) only to hear a really sick DJ. When i hear good music, i always love letting the DJ know.. always always, trust me.. its a good feeling! So, i introduced myself to the dude spinning the tunes... and since then we've been buddies.

Ladies, I present to you.. DJ Anthony Pisano.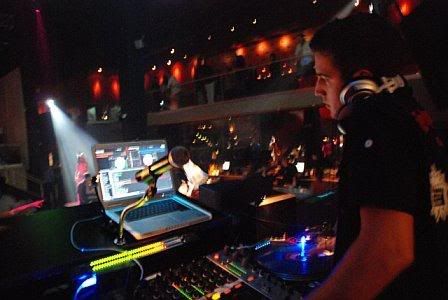 He let me know that he had an idea to start a local college night... you know, switch the scene up a bit. After a few months of hanging out with Anthony & his roommate, Tyler, we had an official Wednesday night party in Boca, REHAB. Without question, Anthony let me know that i would be opening for him.

Now theres something different in Boca. I honestly feel that the music is what makes a place successful, and it shows in our crowd.

This guy is constantly looking out for everyone and makes sure that everyone is always having a good time. Not only is he awesome on the tables, but he's a sweetheart, he's a genuine dude and is always doing the right thing. He's

always

been there for me when i've needed some extra comfort or motivating words. Last night at Rehab, Yumna & I realized how awesome he really is.... and it shouldn't go unnoticed. So, to Anthony... we love you and youre extremely appreciated!

Its awesome to work with good people. Thank you!!!

To all those that read my blog who aren't familiar with our party.... check out our Myspace page HERE... and also check out Anthony, HERE, who is also a resident DJ at Slims in Ft. Lauderdale on Friday nights.

Look out for us both in the South Florida area. Business is picking up, and we're for sure here to stay.

PS, check out my Myspace page (also

ADD

my music page).



Peace & Love

.