Well, this is my first official post on my long awaited blog. No really, i've been wanting to make a blog for about 2 years now and i've just never gone through with it! Now is my time.

So, i guess an appropriate introduction would be about recent events in my life.. i.e: the Republican debates were hosted at my very own university, FAU (go owls!!!).

With that said, I must inform people about my Ron Paul fascination (thanks to my amazing brother), this man is remarkable. Many are unaware of who he is, which makes me sad. He's the only anti-war Republican candidate for president! And trust me, he's the only hope for America and our generation. So, if you're eligible to vote and you're still undecided on a candidate, i'd recommend to learn a little bit more about Dr. Ron Paul: www.Ronpaul2008.com

Yesterday, Yumna and I supported Dr. Paul for 10 hours. We ran up and down Glades road with hundreds of other Ron supporters. There were no other support groups for any other candidates. We had signs, stickers, our cars painted... everything RON! After the debates, Dr. Paul was kind enough to come to his support area, where he gave an uplifting speech. I was lucky enough to shake his hand twice (caught on tape!), and i snuck around the back to give him a hug goodbye. I like to think of Ron Paul supporters as FREEDOM FIGHTERS, yup.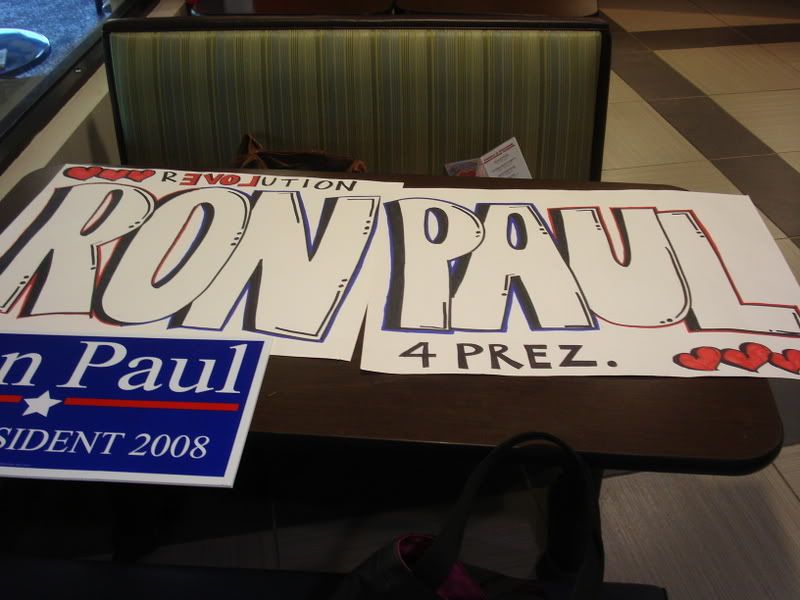 (we made those!)




(Glades road!)

They were calling us the "RON PAUL GIRLS." Lookout for interviews and photos of us and other Ron Paul supporters in the Palm Beach Post, The Sun Sentinel.. and many other papers (were online too, youtube!)

I wish i could vote. It really makes me upset that the majority of those who actually have the opportunity to vote choose not to or just don't care at all- when those who are unable to vote want to make a difference. So, get your ass out there- learn about the candidates, and make some choices for America. lol @ my patriotism, i'm not even a citizen. But hey, at least i can spread the knowledge.



Peace & Love.